ANALISIS UNIVARIAT DAN MULTIVARIAT CONTO SEDIMEN SUNGAI DALAM PENENTUAN POTENSI MINERALISASI LOGAM DI HALMAHERA BAGIAN TIMUR, PROVINSI MALUKU UTARA
UNIVARIATE AND MULTIVARIATE ANALYSIS OF STREAM SEDIMENT SAMPLE FOR DETERMINATION OF METAL MINERALIZATION POTENTIAL IN THE EASTERN PART OF HALMAHERA, NORTH MALUKU
Reza Mochammad Faisal

Center of Mineral Coal and Geothermal Resources - Geological Agency - MEMR (Pusat Sumber Daya Mineral Batubara dan Panas Bumi-Badan Geologi-Kementerian Energi dan Sumber Daya Mineral)

Irfan Budiaji Nugroho

Program Sarjana, Prodi Teknik Geologi, FITB-ITB

Bambang Priadi

Program Sarjana, Prodi Teknik Geologi, FITB-ITB
Keywords:
geochemistry, East Halmahera, metallogenic, mineralization, univariate, multivariate
Abstract
Geochemical research used the analysis method of -80 mesh of active stream sediment samples is one of the early phase exploration specially in finding out metallic mineral deposits. Easternpart of Halmahera with its complex geologic setting and a metallogenic region is being potential to form metallic deposits, which create some variation and interesting geochemical performances. The geochemistry of stream sediment data by means in the form of elements distribution maps represent the basic important information of mineralization indications, which enable for detail follow up research, specifically nickel mineralization associated with the Ultrabasa Complex lithology.
Interpretation of geochemical data in the study area with univariate and multivariate statistical analysis approaches consisting of elements of Cu, Pb, Zn, Co, Ni, Mn, Ag, Fe, Cr, and Au, the process of enrichment of geochemical elements in the surface environment is shown by the spatial association of Co, Ni, Fe and Mn, namely the enrichment of elements due to chemical binding (scavenging) by Fe and Mn oxides. Based on the kindship of elements or relations between elements obtained two groups of elements, namely the bonding elements of Cu-Pb-Zn-Ag-Cr and Co-Ni-Mn-Fe-Au, but not all groups of element associations can be related to the lithology that develops in the study area.
References
Apandi, T. dan Sudana, D., 1980, Peta Geologi Lembar Ternate, Maluku Utara Skala 1 : 250.000. Pusat Penelitian dan Pengembangan Geologi, Bandung, Direktorat Jendral Geologi dan Sumberdaya Mineral, Departemen Pertambangan dan Energi.
Fadhly, A., Syafri, I., dan Abdurrokhim, 2017, Zonasi anomali unsur geokimia di Weda, Kabupaten Halmahera Tengah, Maluku Utara berdasarkan data univariat dan multivariat, Bulletin of Scientific Contribution, Volume 15, Nomor 3, hlm. 243-254.
Faisal, R., Soepriadi, Rosana, M., dan Yuningsih, E., 2015, Analisis Faktor dan Univariat Dalam Penentuan Potensi Mineralisasi Cu, Pb, Zn di Halmahera Bagian Barat, Maluku Utara, Buletin Sumber Daya Geologi, Volume 10 Nomor 3, halaman 167-183.
Faisal, R., dan Mauritz, J., 2018, Survei Geokimia Regional Bersistem Lembar Ternate A-5, Pulau Halmahera, Provinsi Maluku Utara. Pusat Sumber Daya Mineral Batubara dan Panas Bumi, Badan Geologi, Kementerian Energi dan Sumber Daya Mineral.
Ghazali, S. A., Muchjidin, dan Hariwidjaja, 1986, Penyelidikan Geokimia Endapan Sungai: Metode dan Teknik. Direktorat Sumber Daya Mineral, Bandung.
Karypis, G., Han, E., dan Kumar, V.,1999, Chameleon: hierarchical clustering using dynamic modeling. IEEE Computer, Vol. 32, Issue 8, Aug 1999.
Levinson, A. A., 1980, Introduction to Exploration Geochemistry. Edisi Kedua. Applied Publishing, Illinois.
Rose, A. W., Hawkes, H. E., dan Webb, J. S., 1979, Geochemistry in Mineral Exploration. Edisi Kedua. Academic Press, London.
Surjadi, P. A., 1976, Pendahuluan Teori Kemungkinan dan Statistika. Penerbit ITB, Bandung.
Swan, A. R. H. and Sandilands, M., 1995, Introduction to Geological Data Analysis, Blackwell Science Ltd., Oxford.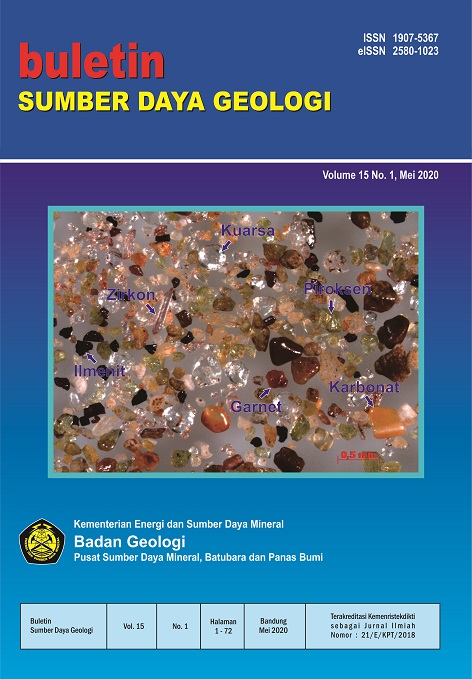 Section
Buletin Sumber Daya Geologi
Copyright (c) 2020 Buletin Sumber Daya Geologi
This work is licensed under a Creative Commons Attribution-NonCommercial-ShareAlike 4.0 International License.
Penulis yang naskahnya diterbitkan menyetujui ketentuan sebagai berikut:
Hak publikasi atas semua materi naskah jurnal yang diterbitkan/dipublikasikan dalam situs Buletin Sumber Daya Geologi ini dipegang oleh dewan redaksi dengan sepengetahuan penulis (hak moral tetap milik penulis naskah).
Ketentuan legal formal untuk akses artikel digital jurnal elektronik ini tunduk pada ketentuan lisensi Creative Commons Attribution-ShareAlike (CC BY-SA), yang berarti Buletin Sumber Daya Geologi berhak menyimpan, mengalih media/format-kan, mengelola dalam bentuk pangkalan data (database), merawat, dan mempublikasikan artikel tanpa meminta izin dari Penulis selama tetap mencantumkan nama Penulis sebagai pemilik hak cipta.
Naskah yang diterbitkan/dipublikasikan secara cetak dan elektronik bersifat open access untuk tujuan pendidikan, penelitian, dan perpustakaan. Selain tujuan tersebut, dewan redaksi tidak bertanggung jawab atas pelanggaran terhadap hukum hak cipta.