MODEL GAYABERAT 2D UNTUK MENGUNGKAP STRUKTUR GEOLOGI BAWAH PERMUKAAN PADA DAERAH PANAS BUMI NATAR
2D CONCEPTUAL MODEL ON NATAR GEOTHERMAL SYSTEM BASED ON GRAVITY DATA
Bella Restu Juliarka

Institut Teknologi Sumatera

Mochamad Iqbal

Institut Teknologi Sumatera
Keywords:
gravity, geothermal, geological structure, Lampung, Natar
Abstract
The Natar geothermal field is located in Natar District, which is approximately 10 km north of Bandar Lampung, Lampung Province. This geothermal area is unique because the manifestation of hot springs that appear on the surface is in a relatively flat area. Geological observations on outcrops to determine the geological structure that control the hot springs are difficult to carry out due to limited rock outcrops, so geophysical methods are needed to interpret subsurface conditions such as gravity methods. The geology of the study area is covered by Lampung Formation consists of pyroclastic - volcaniclastic rocks with thickness reaching 200 m. The result of gravity data processing shows the value of Bouguer anomaly which ranges from 51.0 to 62.6 mGal. The interpretation of Bouguer's anomaly data shows five fault structures predominate northwest-southeast and north-south trend, which act as the water path discharge. This trend indicates that the geological structure in the study area is still related to the Great Sumatran Fault, which is also trending northwest-southeast. The 2D subsurface modeling is conducted by using Oasis Montaj software 8.4 produces three layers of rock density, namely a layer associated to the Lampung Formation with density of 1.9 g / cm3, and two layer basements with densities of 2.54 g / cm3 and 2.76 g / cm3 respectively, forming horst and graben like structures in the study area. Exploration drilling for further research is recommended to the west of the hot springs to confirm the subsurface model.
References
Ditjen EBTKE, 2017. Potensi Panas Bumi Indonesia. Direktorat Panas Bumi, Direktorat Jenderal Energi Baru, Terbarukan dan Konservasi Energi, Kementerian Energi dan Sumber Daya Mineral, Jakarta.
Guglielmetti, L., Comina, C., Abdelfettah, Y., Schill, E., Mandrone, G., 2013. Integration of 3D geological modeling and gravity surveys for geothermal prospection in an Alpine region. Tectonophysics 608, 1025–1036. https://doi.org/10.1016/j.tecto.2013.07.012
Iqbal, M., Ashuri, W., Juliarka, B.R., Farishi, B.A., Harbowo, D.G., 2019a. Delineation of Recharge and Discharge Area for Geothermal Energy in Natar. IOP Conf. Ser. Earth Environ. Sci. 258, 012036. https://doi.org/10.1088/1755-1315/258/1/012036
Iqbal, M., Juliarka, B.R., Ashuri, W., Farishi, B.A., 2019b. Hydrogeochemistry of Natar and Cisarua Hot springs in South Lampung, Indonesia. J. Geosci. Eng. Environ. Technol. 4, 178–185. https://doi.org/10.25299/jgeet.2019.4.3.2959
Maithya, J., Fujimitsu, Y., Nishijima, J., 2020. Analysis of gravity data to delineate structural features controlling the Eburru geothermal system in Kenya. Geothermics 85, 101795. https://doi.org/10.1016/j.geothermics.2019.101795
Mangga, S.A., Amirudin, Suwarti, T., Gafoer, S., Sidarto, 1993. Peta Geologi Lembar Tanjungkarang, Sumatera skala 1:250.000.
Parasnis, D.S., Cook, A.H., 1952. A Study of Rock Densities in the English Midlands. Geophys. J. Int. 6, 252–271. https://doi.org/10.1111/j.1365-246X.1952.tb03013.x
Pocasangre, C., Fujimitsu, Y., Nishijima, J., 2020. Interpretation of gravity data to delineate the geothermal reservoir extent and assess the geothermal resource from low-temperature fluids in the Municipality of Isa,
Southern Kyushu, Japan. Geothermics 83, 101735. https://doi.org/10.1016/j.geothermics.2019.101735
Rymer, H., 2016. Gravity measurements on chips. Nature 531, 585–586. https://doi.org/10.1038/531585a
Saptadji, N., 2018. Teknik Geotermal, 1st ed. ITB Press, Bandung.
Soengkono, S., Bromley, C., Reeves, R., Bennie, S., Graham, D., 2013. Geophysical techniques for low enthalpy geothermal exploration in New Zealand. Explor. Geophys. 44, 215–227. https://doi.org/10.1071/EG13036
Uwiduhaye, J. d'Amour, Mizunaga, H., Saibi, H., 2018. Geophysical investigation using gravity data in Kinigi geothermal field, northwest Rwanda. J. Afr. Earth Sci. 139, 184–192. https://doi.org/10.1016/j.jafrearsci.2017.12.016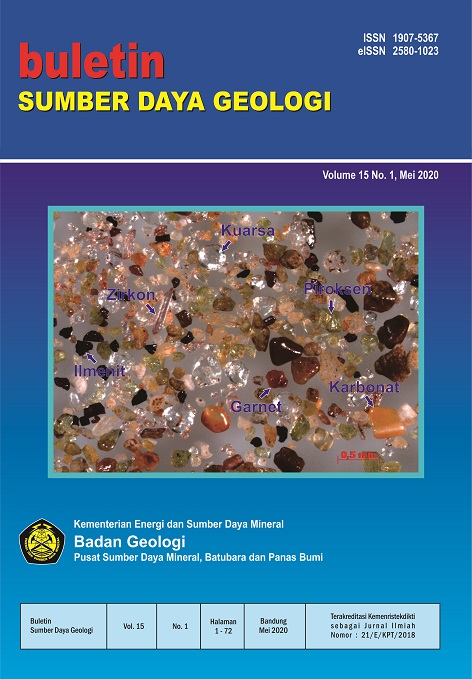 Section
Buletin Sumber Daya Geologi
Copyright (c) 2020 Buletin Sumber Daya Geologi
This work is licensed under a Creative Commons Attribution-NonCommercial-ShareAlike 4.0 International License.
Penulis yang naskahnya diterbitkan menyetujui ketentuan sebagai berikut:
Hak publikasi atas semua materi naskah jurnal yang diterbitkan/dipublikasikan dalam situs Buletin Sumber Daya Geologi ini dipegang oleh dewan redaksi dengan sepengetahuan penulis (hak moral tetap milik penulis naskah).
Ketentuan legal formal untuk akses artikel digital jurnal elektronik ini tunduk pada ketentuan lisensi Creative Commons Attribution-ShareAlike (CC BY-SA), yang berarti Buletin Sumber Daya Geologi berhak menyimpan, mengalih media/format-kan, mengelola dalam bentuk pangkalan data (database), merawat, dan mempublikasikan artikel tanpa meminta izin dari Penulis selama tetap mencantumkan nama Penulis sebagai pemilik hak cipta.
Naskah yang diterbitkan/dipublikasikan secara cetak dan elektronik bersifat open access untuk tujuan pendidikan, penelitian, dan perpustakaan. Selain tujuan tersebut, dewan redaksi tidak bertanggung jawab atas pelanggaran terhadap hukum hak cipta.